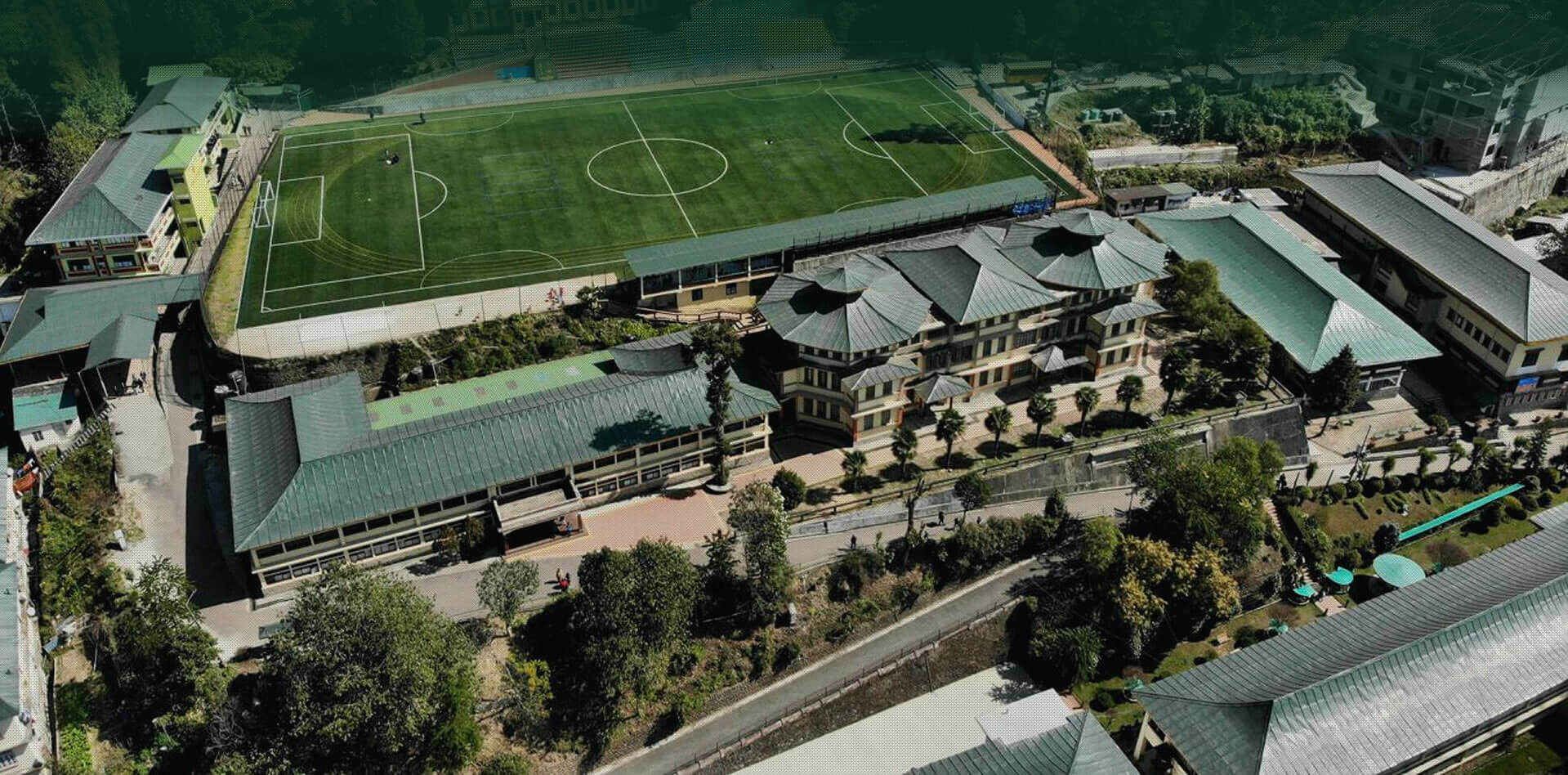 TNA at a Glance
Tashi Namgyal Academy is a co-educational, residential cum day boarding school affiliated to the council for the Indian School Certificate Examinations, New Delhi having classes LKG to XII with about 2000 students from different parts of Sikkim and neighbouring states. The credit for the foundation of Tashi Namgyal Academy goes to Sir Tashi Namgyal, K.C.S.I and K.C.I.E, the eleventh consecrated ruler of Sikkim. The campus measuring approximately 12 acres of prime land is bounded in the South West by the national highway (NH-31A) and in the north-east by the Raj Bhawan, Mintokgang Road.
As one enters the campus one is greeted by the writing on the wall of the main building which reads, "Enter for wisdom and learn to serve." The school motto, "Learn to Serve" embodies the true spirit of the school.
Tashi Namgyal Academy situated in sylvan and idyllic surroundings at an altitude of 170 metres above sea level symbolising a seat of knowledge soaring high and conquering greater heights. The senior section, the middles section and the juniors section are characterised by huge buildings forms the three main pillars of this institution. In addition, "The Golden Temple", another soaring structure in the campus specially caters to the need of (XI-XII) Commerce and Science streams. The Physics, Chemistry, Biology, Geography and Computer Laboratory, situated entirely in a different complex, equipped with latest facilities makes teaching and learning of the subject more practical, pragmatic and interesting. The school's library provides a wide range of printed and electronic measures to support the academic, mental, creative and cultural development of all students. Teaching with the help of modern technology and smart class rooms has made education more enjoyable and interesting for one and all.
The school also has three hostels – Girls' hostel, Boys' hostel and Junior Boys' hostel. Hostel wardens and hostel matrons along with the Ayyas are looking after the hostels and catering to the needs of the students. There is also an infirmary coordinated by a well-trained matron for the care of sick children.
The presence of a football playground, the basketball court, the volleyball court, badminton court, a separate table tennis room and the swimming pool, annual sports' meet or "Mini Olympics" and the cross country organised each year in TNA with specialised coaching facilities shows that games and sports are an integral part of the teaching-learning process in TNA.
Experts giving training in the field of music, dance, acting, debate, quiz, extempore speech, elocution, drawing and craft proves that TNA aims at achieving an all-round development of the child and make him/her competent enough to prepare him/her to face a future full of challenges and emerge victorious and successful in every endeavour taken up by the child.