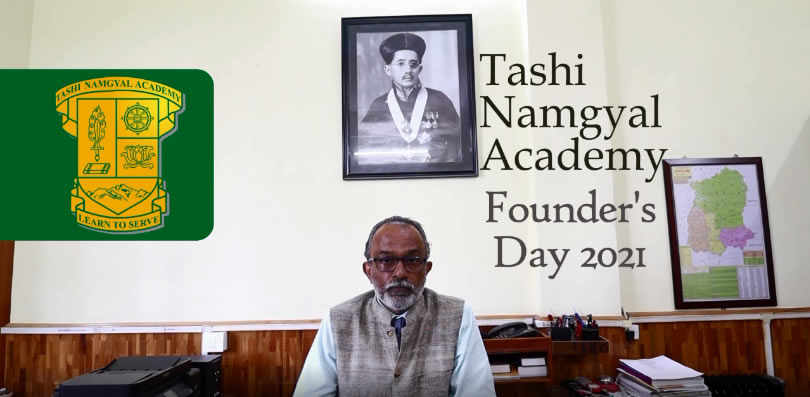 Chogyal Sir Tashi Namgyal
Chogyal Sir Tashi Namgyal was born on October 26th, 1893. He was the second son of Sir Chogyal Thutob, the King of Sikkim.
Kumar Tashi, as he was then known, did his early schooling from St. Paul's School Darjeeling and later Mayo Chief's College in Ajmer where he was very interested in Botany and Forestry.
After the death of Chogyal Sidkeong Tulku, Kumar Tashi had to cut short his formal education at a youthful age and was made the King of Sikkim on 19th February, 1915.
The actual coronation took place on the 15th of May, 1916. Upon his coronation Kumar Tashi Wangyal took the official title Chogyal Tashi Namgyal of Sikkim.
Chogyal Sir Tashi Namgyal married Lacham Kunzang Dechen with whom he had three sons and three daughters.
Chogyal Sir Tashi Namgyal was known for many beneficial achievements in his enlightened 50 years of rule as the King of Sikkim. He had a lifelong interest in education and founded Tashi Namgyal Higher Secondary School in 1926 which we now know and love as Tashi Namgyal Academy.
Under his reign, the modern judiciary and courts were established in Sikkim. He abolished Lessee Landlordism, introduced the Nationalised State Transport Service and established the first General Hospital at Gangtok and dispensaries in the outlying villages.
He also founded the Namgyal Institute of Tibetology in 1957.
As Chogyal Sir Tashi Namgyal grew older, he increasingly relied on his second son Crown Prince Palden Thondup Namgyal to run the administration of Sikkim as he spent the later years of his life in spiritual retreat with his beloved paintings.
Until his death in 1963, Chogyal Sir Tashi Namgyal had many credits to his name. He earned the Delhi Durbar Medal – 1911, Knight Commander of the Order of the Indian Empire (KCIE) in 1923, King George V Silver Jubilee Medal in 1935, King George VI Coronation Medal in 1937 and Knight Commander of the Order of the Star of India (KCSI) in 1939.
Chogyal Sir Tashi Namgyal is remembered best today for his long and enlightened rule bringing Sikkim into modern times. Under his reign Education, Healthcare and the Judiciary all flourished. But perhaps, he is best known for his love for Sikkim and his people.Test